Hello all and welcome to Hodgson Chimney Sweeps
Our team has written this short blog to introduce ourselves to you.
Hodgson's chimney sweeping family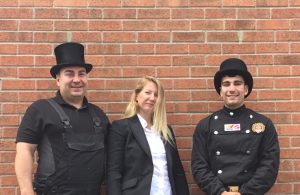 Introducing the team.
Daniel Hodgson Master Chimney Sweep
My Name is Daniel Hodgson I have been the chairman of the Guild of Master Chimney sweeps for over eight years, I am now the current Chairman of Sweep Safe. I am a master chimney sweep and have been running clean sweep londons premier chimney sweeping company since 1993. I take my job very seriously and love to be a chimney sweep. My job is a life long passion, I am looking forward to sweeping the chimneys of my new home town Torquay in Devon and meeting you.
We like the traditional image of a chimney sweep very much but knowing how dangerous soot is, nowadays it is more likely we will be wearing a space age mask like the below picture when we sweep your chimney.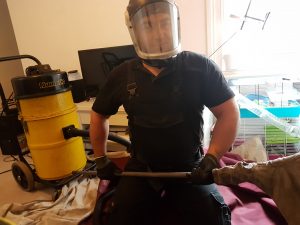 Danny Hodgson Master Chimney Sweep
My name is Danny Hodgson I have been chimney sweeping through our family firm clean sweep chimney services throughout London and the Home Counties for just over 7 years. Quickly realising my passion for chimney sweeping it was clear I had to further my studies, receiving qualifications through HETAS and the Guild of Master Chimney Sweeps this is my job for life. I am now a Sweep Safe Certified Chimney Sweep and the Sweep Safe Assessor for the South West Regions. I was considered the countries youngest master chimney sweep by the BBC, please see the video here:
Danny Hodgson the UKs youngest master chimney sweep
I am now moving away from being a London chimney sweep as I am moving into Torquay, Devon where I will be chimney sweeping throughout new areas, sweeping new chimneys and meeting new people. I am excited to be joining a new thriving community and sharing my knowledge and skills throughout Devon and Somerset.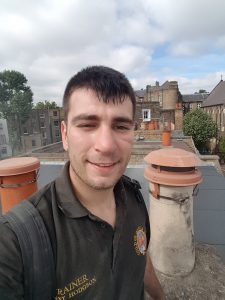 last but not least I would like to introduce the lady behind the telephone, boss of the admin and overall organiser of us all.
Mrs Sarah Hodgson manager
Hi my name is Sarah
I am the wife and mother of the masters sweeps at Hodgson Chimney Sweeps
My role as the office manager is answering the phone, running the men and office and keeping our customers happy. It is me that you will speak to when you ring 08000434737 our free business number. I will be happy to answer your questions, avert your worries and book you in for your annual chimney sweep, test, camera survey or stove service. I look forward to our telephone chats.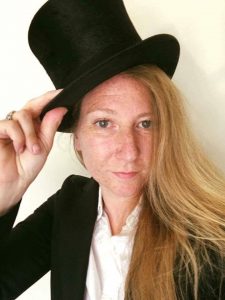 Our team love working in our family chimney sweeping business, we try hard with ongoing training to be the best around offering the best service. If you wish to know more or make a booking click here. Chimney Sweep Devon
Text, Whatsapp or Call: 07914115770